Overview – Markers in Chart
Markers are used to uniquely represent a particular dataSeries or dataPoint. Markers can appear in two different place – on charts and in legend. By default Markers are automatically enabled when number of dataPoints are less – automatically determined based on Chart Size. You can manually override the automatic enabling/disabling of markers by setting markerSize to a value equal to or greater than zero. Below we see an image representing markers in a chart.
Notes
Currently markers are supported in Line Charts, Area Charts, Scatter Charts and Bubble Charts only – not available in Column/Bar charts.
To disable marker use markerType as "none".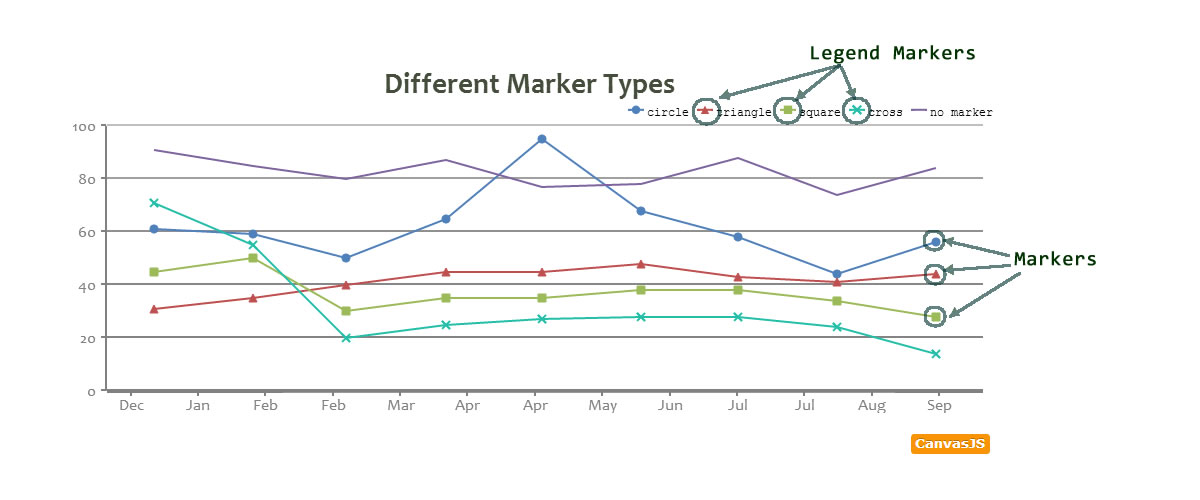 ---
Different Type of Markers
markerType property can have five possible values – "circle", "square", "triangle" ,"cross" & "none". Below is an example showcasing the same.
---
Styling Marker
Default markers can be overridden by setting marker properties. You can customize markers using the below properties/attributes.
Applies To
Attribute
Type
Default
/Examples
dataSeries/ dataPoint
markerType
String
"circle"
"none", "circle", "square", "cross", "triangle", "line"
dataSeries/ dataPoint
markerColor
String
auto. takes dataSeries/dataPoint color
"none", "circle", "square", "cross", "triangle", "line"
dataSeries/ dataPoint
markerSize
Number
auto. Zero for area chart
5, 10..
dataSeries/ dataPoint
markerBorderColor
String
marker Color
"red", "#1E90FF"..
dataSeries/ dataPoint
markerBorderThickness
Number
1
4,6..
---
Custom Marker for individual dataPoint
Certain times we may want a dataPoint to stand out from the rest. In these cases, you can override default marker behaviour only for that particular dataPoint as shown below.
---
Styling Legend Markers
If you want a different set of marker in legend from those plotted on chart, you can use the following properties of dataSeries/dataPoint.
In the below code snippet, we will have different looking markers on dataSeries and inside legend. Though this is not recommended, we have provided the feature because of some special cases.
---
Finishing it up.
Below is an example that uses all the above concepts.
---
---