Overview – Available Chart elements in CanvasJS
Below is an image showing all the basic elements of a chart.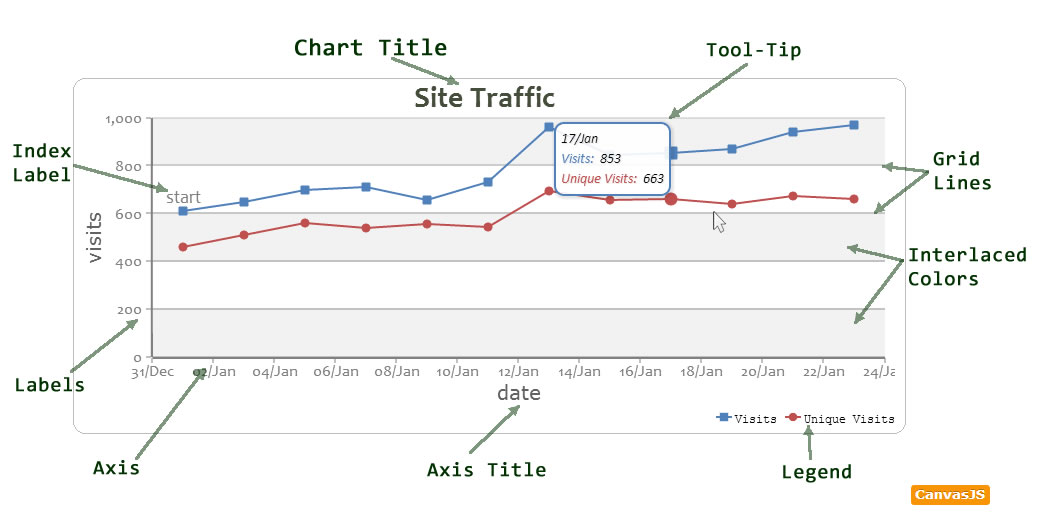 ---
Chart Title
A Charts Title is used to describe the chart.
Legend:
Chart Legend that you can position in in 8 different places.
Grid Lines:
To Improve readability of the chart, Grid lines are used. You can display Horizontal and Vertical Grid Lines.
Tool-Tip
ToolTip displays additional information about a dataPoint/dataSeries upon hovering.
Label:
Labels that appear on an axis are either auto-generated or set by the user.
Axis:
X & Y Axis for Chart. CanvasJS supports one X Axis and Two Y Axis (Primary & Secondary)
Axis Title:
Title of an Axis. Each Axis has its own title Property.
Index Label:
Index Labels can be used to display additional information about a dataPoint. Its orientation can be either horizontal or vertical
Interlaced Color:
An alternating band of color that appears on the plot area.
In the coming sections, you can learn more about each of these elements and customizing them.
---